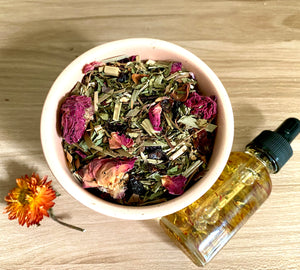 Freyas Garden
Abundance Tea Blend
Regular price
$4.00
$0.00
Unit price
per
Tax included.
Shipping
calculated at checkout.
A sweet, citrusy blend to uplift the mind, and body. 
Made with caffeine-free herbs- dandelion greens, Krishna tulsi basil, lemongrass, red clover blossoms, orange peel, ginger root, rosehips, and rose petals  
Consider this you new lucky charm. 
This blend can be enjoyed as tea, anointed for prosperity and good luck candles, and abundance focused spell jars/bottles  
1tbsp per 8oz. steep 5-7 minutes. 
---