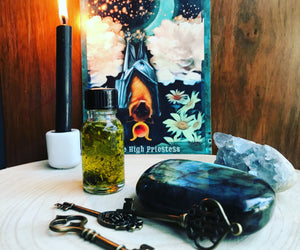 Freya's Garden
Hecate Oil
Regular price
$12.50
$0.00
Unit price
per
Tax included.
Shipping
calculated at checkout.
Hecate (Hekate)
Chthonic goddess, preceding Olympians, mother of witchcraft and magic, the moon, necromancy. keeper of the heavens, earth and sea- the gatekeeper of the spiritual world.
She lights the way from darkness.
She is "the worker from afar."
Guardian of the newly born, the household.
Hecate embraces the duality of life- blessing the light within us and encouraging one to embrace their shadow side, and releasing parts of us that hinder our growth.
A sorceress of herbal magic. Granddaughter of the primordial Gaia.
Hecate will challenge you, while uplifting you- giving you the support needed for spiritual growth and mastering the craft of magic.
This oil was crafted in honor of the sacred energy that is Hecate. Organic extra virgin olive oil, lavender, mugwort, and 100% pure black storax resin- the sacred tree to Hekate, an essential oil blend of frankincense, myrrh, and vetiver. It smells like walking thru a moonlitforest 🥰 the scent of black storax adds an essence that's unlike any other- much like the power of Hecate.
Hail Hecate Chthonia. 🧿
---