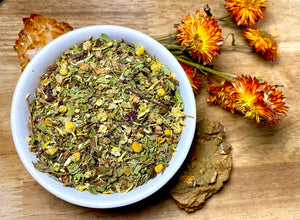 Freyas Garden
Imbolc blend
Regular price
$12.00
$0.00
Unit price
per
Tax included.
Shipping
calculated at checkout.
The word Imbolc means "in the belly." 
Imbolc is a holiday that celebrates the fertility of the earth. Pregnant with life, transitioning into spring- imbolc marks the official transitional period from winter to spring. 
Imbolc urges you to rekindle your fire, set your intentions high, and turn your thoughts into action to welcome meaningful and sustainable abundance. 

Imbolc celebrates the goddess Brigid. 
She is a Goddess of healing, poetry and smithcraft. She is a Goddess of Fire, of the Sun and of the Hearth. She brings fertility to the land and its people and is closely connected to midwives and new-born babies.
the Imbolc blend celebrates healing, abundance, and nurturing our energy and the sacred fire within. This blend features nettle leaf, hawthorn, chamomile, Rama tulsi basil, rosehips, and calendula. Comes in a 2oz compostable pouch. 
 
---