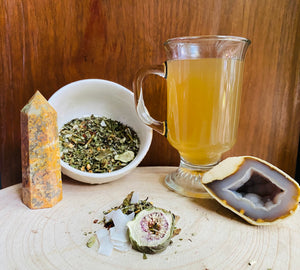 Freya's Garden
ProsperiTEA blend
Regular price
$7.00
$0.00
Unit price
per
Tax included.
Shipping
calculated at checkout.
ProsperiTEA blend 
A rich and sweet blend of fig leaves and white tea, complimented with dried fig, coconut, rosehips, orange peel, and marshmallow leaf.
A blend focused in prosperity, love, luck, and vitality. Sacred to Dionysus, Aphrodite, Juno, Demeter. Element association: fire. A wonderful deific offering tea, or potent herbal blend for prosperity, fertility, and love workings.
Fig and fig leaf tea promote healthy circulatory and respiratory systems. Figs have one of the richest sources of fiber and calcium. They also contain magnesium, copper, manganese, and vitamins A, B, C and K. Besides these vitamins, figs are packed with antioxidants, folic acid, sodium and zinc.
---