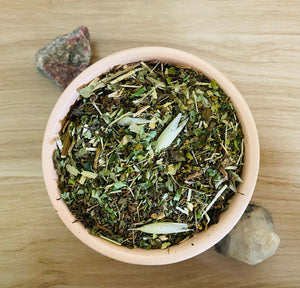 Freyas Garden
Wealth of Health herbal tea tonic
Regular price
$5.00
$0.00
Unit price
per
Tax included.
Shipping
calculated at checkout.
This wellness focused blend was lovingly made to promote whole body health. 
This blend features: a Lemon Balm and Vana Tulsi Basil base, with moringa leaf, oat straw tops, ginger root, and gotu kola. 


Oat straw is used in holistic herbalism as a restorative tonic, treating the physical symptoms of burnout, restoring energy, reducing stress, and promoting healthy skin and organ function. 
Moringa leaf is a super food in Ayurvedic medicine. It has 3x potassium than a banana, 4x vitamin A than carrots, 3x iron in spinach, and 4x vitamin E in almonds. It's truly a SUPER food. Promoting overall wellness, healthy skin, and anti-inflammatory properties. 
Gotu Kola boosts cognitive function, improves healing rates, improves circulation, and is currently being studied for its abilities to prevent Alzheimer's and dementia. 
These powerful herbs mixed with tulsi basil, lemon balm and ginger root make for a powerful tonic that keeps you healthy and restores our very precious energy. 


Recommended uses:
steep 1-2tbsp per 8oz water, steep for 5-7 mins; drink as a hot tea. 


steep 2-4tbsp per 8oz water, steep for 10 mins, add honey-  and store in fridge to serve cold. Mix with 1 oz Apple cider vinegar and lemon slice for a mid day energy boost tonic. 


---