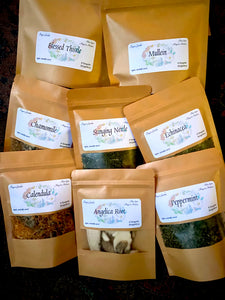 Freya's Garden
Winter Witch apothecary bundle
Regular price
$25.00
$0.00
Unit price
per
Tax included.
Shipping
calculated at checkout.
❄️Winter Witch apothecary bundle ❄️
Featuring:
Mullein 🌿
The spirit of strength. The reminder to stand tall and true to one self. His energy connects the heart and throat energy centers allowing us to be and feel our true selves and express it with pride. Planetary associations: Mercury (inner planets) and Jupiter (outer planets)
Mullein is a reliable and secure plant companion for grounding rituals. His mighty strength starts at his deep, mighty roots. Utilize as tea or incense during grounding rituals.
Mullein is a potent respiratory support herb. An expectorant, aiding in repelling mucus. Supports asthma, and recovery from respiratory viruses and pneumonia.
☀️Blessed thistle
Associated with the Winter Solstice/yule.
A plant of transmutation, refreshing energy, acceptance. Blessed thistle is a powerful protector plant and often used to counter hexes, ward the home and property from evil and to protect new mothers. It is often used in solstice rituals to cleanse and protect the home for the new beginning the solstice brings.
Utilize in floor sweeps, ritual baths, ceremonial fire, and barrier spells or utilize as tea/infused ritual oil.
Blessed Thistle has properties to heal stomach upset, gas, liver, gallbladder problems, helps improve the flow of bile, as an appetite stimulant, and aids indigestion. It also aides in circulation and cleanses the blood via the liver, and strengthens the heart. It is helpful for women in tea, as it reduces pain during menstrual cramps and can be used as an aid to bring forth breast milk in new mothers.
🧿 Angelica root (Holy Ghost root. Archangel root) the grand protector. Hex breaker and banishment work. The great enforcer of boundaries both in spellwork and spiritual healing. Call upon his energy to have Strength to enforce boundaries. His energy is also that of longevity and vitality. This energy makes him the perfect companion to road opening rituals- to bust down the blockages in your way and give you the strength to get what you want.
Angelica root is a warming bitter medicinal. Aromatic & decongestant. Provides powerful circulatory support & the best digestive aid for your medicine cabinet.
🌱 Stinging nettle
The protective crone spirit. The enriching grandmother energy. Utilize stinging nettle when you are feeling weak, vulnerable, and burnt out- in need of refreshment. Stinging nettle is one of the most nutrient rich herbs on the planet. It's vitamin, mineral, and amino acid content makes for a vital companion for winter and keeping our health supported. Nettle is a common and accessible adaptogenic herb. Adaptogens support out body's response to stress and nourishes and regulates our HPA axis (Hypothalmic-Pituitary-Adrenal). Nettle is one of a handful of adaptogens that does not negatively interact with many common medications. Making it a wonderful botanical for healing.

🌼 Calendula
Calendula is a nourishing, warming solar herb, and his spirit moves stagnant energy, he will open you up to opportunities of growth and change.
Calendula holds space for emotional healing and the reclamation of boundaries.
Calendula magic:
-luck/good fortune
-wealth
-healing
-solar magic
Calendula medicine:
- immune support
- circulation support
- anti inflammatory
- anti bacterial/fungal
Chamomile ☀️
The joyful chamomile is called upon when we need to invoke childlike wonder energy, uplifting and positivity. It's medicine is peace and calmness.
Chamomile is a solar herb, often used in prosperity rituals and money drawing. An excellent companion in setting intentions on the winter solstice for the rebirth of the sun.
Chamomile is an anti inflammatory and calming herb. Excellent for sleep issues, restless legs, and gut support/gas pains and gout.
Echinacea 🌸
Echinacea is a great facilitator of health, healing, and inner strength. Her medicine brings great immune system and nervous system support, while also supporting our emotional healing and well being. Her energy is strong but gentle, and an excellent companion for the darkest winter nights, when we need to lift our spirits and indulge in self care. Echinacea is a great abundance herb for the solstice, manifesting and invoking health and strength to achieve what we desire and need to grow. 💛
Get these herbs in a bundle to stock up for winter and preparation for the solstice.
25 + shipping. Blessed thistle and mullein come in a large (8x10) pouch and the rest come in medium (5x7) pouches.
---